<![if !supportLists]>·<![endif]>
July 2014

Lawrence Charles "Larry" Chrisman
7830 West County Road 20
Loveland, Colorado 80537
My six paragraph history:
            Where have all the years gone.  I moved to Loveland from Omaha, Nebraska in August of 1956. We arrived at night.  I thought that 14th Street was Downtown Loveland.  The next morning, I saw the mountains for the first time. Coming from a large town, I knew if I could see something it, it wasn't that far. So, as soon as my bicycle was unloaded, I headed to the mountains.  I lived on the corner of Cedar Drive and 25th Street, just west of Lincoln Ave.  I rode my bike to the end of 25th Street which was Garfield and the mountains were just as far away. I decided to return home and leave the mountains for another day.
            After we graduated I tried College for a "very" short time. Still living at home, I worked off and on around Loveland. Then, I moved to Ventura, California with Doug Fenton and Wilber Pfeiff.  Wilber and I stayed in Ventura for a week or two and then moved on to the Bay area. We had driven to Ventura in Doug's car, so we took a Bus north. Beezer Cruise and Tom Wertz had move to northern California a week after we moved to Ventura.  Beezer picked us up at the bus station.  We were out of money, so I called home for a loan. My mom informed me my draft papers had arrived. Wilber's uncle bought us Bus tickets and a bag of cookies for our trip home.  We had a layover in Reno.  Wilber had a dime and we were hungry.  We found a nickel slot machine and tried our luck. Well, the slot eats our nickels and we get back on the bus still hungry.  My mom had put some money in my checking account, but cashing an out of state check is almost impossible.  We spent the next night laying over in Salt Lake City. A waitress offered to buy us a bowl of soup, but we were too proud to take it. The next day in Laramie, Wyoming a banker who knew my father cashed my check, but we had no time to eat before the bus left.  Finally, in Cheyenne after traveling for two days we got to eat.  So for a couple of weeks I lived in California.
             Beezer Cruise, Ken Bacon and I were roommates. Beezer had returned from California in1966 and three of us got an apartment in 67. Beezer and I were roommates until I got married in 1972 to Lura. We were divorced in 1981. My father and I started a small manufacturing business in 1968. We worked together until he became ill on Father's Day 1982. Luckily I had called him the day before.  I had spent the week at Lake Powel with Bruce Mowery and group of his friends.  The Park Rangers had left a note on my car to call my office. The rangers first said they would not be able to find my car. My office explained to them that I was driving a Delorean and it should be the only one in the lot. I had dropped my billfold in the lake so I was out of money again.  Arrangements with an Oil company had been made to land and pick me up in Grand Junction on their way to Loveland. My father died the following year.
            Now were in the 80's. After I was divorced the first thing I did was buy a Corvette. The second was build a Bar. The third was getting a Harley. For two years I spent nearly every weekend in California trying to make a movie. I still own a screen play and have a file full of rejection letters.  After my movie adventure I try playing in the oil patch. Steve Smith worked for me getting drilling leases. We drilled two wells and we fracked both of them. About this same time I started off road racing. I had a driver; the only time I was in the car is when the rules required two people. We raced in the Mickey Thompson Series.  We raced in football stadiums from Houston to Seattle. We even raced in Mile Hill Stadium in Denver.  I met my next wife Jody about this time. We were married in July of 1989 and built the house I live in how.
            How were in the 1990's. Jody wanted a horse. So I got her a horse and one for me. I had only ridden a horse about once before. I like things with steering wheels.  Jody wanted to learn to jump.  So instead of just getting her lessons, I try to make a business out of it. I hired a trainer from Mexico and start breeding horses.  In 1994 Jody and I get a divorce and she moves back to California, leaving me with the horses.  About this same time I move the manufacturing business to Utah.  I sold it two years later to company from Texas. I still owned the old plant in Loveland, so then I sold most of the old equipment to a Russian company. The old plant in Loveland was converted into rental properties.  Jody moved back to Colorado three years later and I gave her the horses.  I subdivided my land so I could sell my barn and arena.
            Are you ready for the new century?  I've been retired since about 1996. I started restoring cars in a shop at my house. I have sold most of my cars the last few years. I have 1962 Plymouth that is finished, a 1927 Chrysler that I am working on and a 1972 Cuda that I will start next year. In 2005 I started Drag racing. I still have my race car, but haven't raced this year.  In the 60's I worked on cars and drank beer with Beezer and Kent Sullivan. Now, in 2014 I work on cars and drink beer with Beezer and Kent.  We get together every Thursday and Friday afternoon for drinks. Fifty years have passed and I am back where I started.
=====================================================================================================================================
Larry Chrisman – 1994
<![if !supportLineBreakNewLine]>
<![endif]>
<![if !vml]>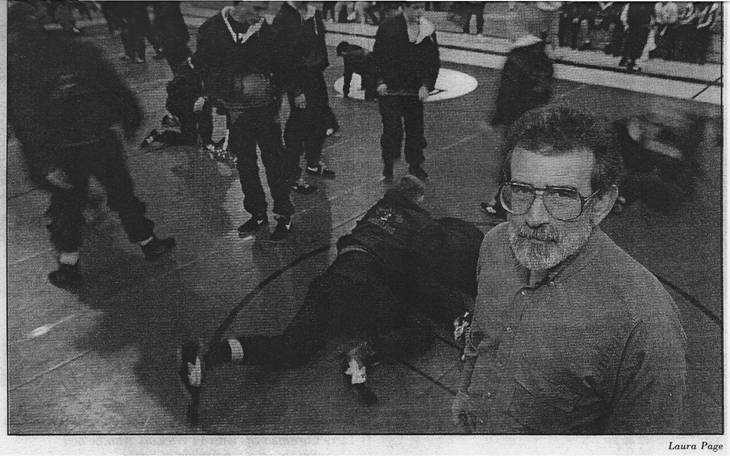 <![endif]>
I'll always remember you, my friend
By Mike Brohard
(March – 1994)
 
<![if !supportLineBreakNewLine]>
<![endif]>
Dedication, Spirit, Inspiration

Those are the three things most people remember about Ron Kness as a Loveland High School wrestler in the late 1950's and early '60s.                .
Those three words adorn the Ron Kness Award, a scholarship 'presented annually to the LHS senior wrestler who best exemplifies those qualities.
<![if !supportLineBreakNewLine]>
<![endif]>
For Larry Chrisman, 48, the founder of the award, it's a way to remember his late friend; who made a difference in his life. The Ron Kness Scholarship is now given to make a
difference in the lives of Loveland athletes.
Larry, who now is president of Colorado Steel and Wire Co. in Loveland, was a junior when he and Kness attended LHS.  Larry didn't really know Kness back then, but he knew of him.  Who in the school didn't know about the two-time state wrestling champion? nIt wasn't until both were going to junior college in Sterling that their paths crossed.  Larry and his roommate were moving into their apartment.  Kness happened by, looking for a place himself.  Kness moved in with Larry, and they became fast friends. "He was a very friendly, outgoing person," .Larry said. "He's a person I knew in a manner of speaking, for a fairly short time period, but basically we just hit it off real well. He was one of my best friends."
From that time up until Kness marriage in 1968, Larry and Kness roomed together, both here in Loveland and back in Sterling. When Kness got married, the two remained friends. Larry even made a minor repair to Kness' Jeep one day in 1969 - the day before Kness died in an off-road accident on Aug. 9, 1969.  It is something that Larry said he has thought about, but not dwelt on.  What he has dwelt on are the memories of "one of my best friends."
Larry wanted to do something to keep the memory of Kness alive. "He was a good friend. And so I thought, try-to think of a way for him to be remembered," Larry said. "And I thought the wrestling was what he stood out at, as far as his abilities, and I thought that would be a good place to run ... to start something for him. "He was probably the first close
friend of mine to die and I think it has something to possibly do with my first go-round with death, and I didn't want it to just disappear.  I wanted to keep his memory alive."  And the family of Ron Kness has found it to be a touching way to remember someone close to them. "I thought it was real nice of Larry to do that," said Jean Boekel, Kness' mother.  "I thought it was a great idea and it helps out a young person. It is an honor that Larry would do this. I feel really good about it."
So, in 1981, with the help of Vi Wickam, the Ron Kness Scholarship was born. Larry said he related best to Kness in other ways but knew' the best 'way to keep his memory alive was in local wrestling circles. That is how most people identified with him. Since Larry didn't run in those circles, he asked for Wickam's help. Wickam was the assistant wrestling coach at LHS when Kness wrestled, and he also was Larry's shop teacher.  It was Wickam who came up with the three-word tribute to Kness. "I have. a lot of memories of
Ronnie," Wickam said, "These are key words, spirit in particular, a frame of mind or an inward.atttude.  And there wasn't any question as far as the dedication.  As far as practice, he was the first person there, and he wasn't the type of person to be sitting against the wall waiting for the coach to crack the whip and say get out there.
<![if !vml]>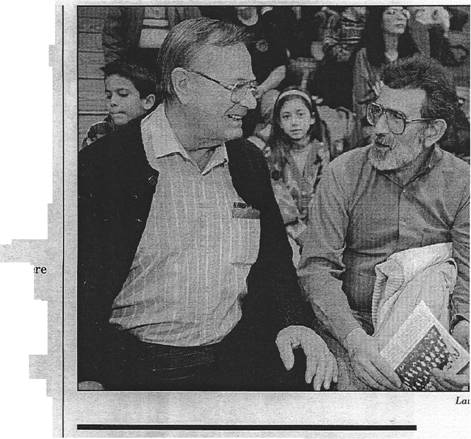 <![endif]>
<![if !supportLists]>· <![endif]>
                                                             (Larry Chrisman sits with Vi Wickam, who helped Chrisman set up
                                                                                     a scholarship in honor of his friend)
Wickam also remembers Kness started out slowly.  As a freshman, Kness was closer to 70 pounds than the 92-pound mark for his weight class.  And while Kness took his beatings the first couple of years, he took notes – notes that paid off when he won his last 44 prep matches and became the first two-time state champion at LHS.  Wickam was quick to join the project.  Papers were drawn and criteria developed to give out the award - a $1,000 scholarship from Colorado Steel and Wire Co. The company was started in 1968 by Larry and his father, Monte, who moved here from Omaha, Nebraska 'in 1956.. Larry's father stepped down from the operation - which had outgrown its previous location and spawned a second plant in Brigham City, Utah - in 1982.  Since then, Larry has served as president of.the company that  produces steel T-fence posts, gates and corral panels. Larry and his wife, Jody, live in west Loveland, where the two raise horses.
Senior wrestlers at LHS apply for the award, and it is voted on by Larry and Wickam, the coaches, an' LHS counselor, the principal, two additional faculty members at LHS and two members' from the community who are well acquainted with wrestling and Kness himself.  So far, 12 former Loveland wrestlers have.taken the scholarship and used it to further their education. For all, it has been a big help.
Mike Donovan. and Mark Tovar each won the award' back in 1987, after the 1986 scholarship wasn't used.  Donovan used the money to help pay for part of his first year at the University of Wyoming.  After his freshman year, Donovan earned an athletic scholarship and. wrestled for four seasons for the Cowboys, once winning a Western Athletic Conference championship and twice competing at the national tournament. "It definitely helped," said Donovan, who is now an assistant coach at Thompson Valley High School. "I used it to help pay for my first semester at Wyoming. I know it helped Mark a lot. I still would have gone, but I think it was the push that made him go to school."
The Ron Kness Award was the first time that Larry had done something to help out in the community, but not the last. A few years later, Larry helped set up the Front Range
Tennis Classic in Boulder. The tournament serves as a fund-raiser for the Bal Sawn Children's Center in Broomfield. The center helps handicapped and learning impaired children. Larry was drawn to the project because one of his employees' sons attended the center.
"I have a lot of memories of Ronnie. These are key
words, spirit in particular, a frame of mind or an
inward attitude. And there wasn't any question as far as
the dedication. As far as practice, he was the first
person there, and he wasn't the type of person to be
sitting against the wall waiting for the coach to crack the whip and say get out there."
. Vi Wickam